Realizing your vision requires a clearly defined strategy, a well thought out plan and a competent team to execute the project plan. However, most leaders will admit that executing plans successfully, on time and within budget, is a herculean feat. In fact, studies have shown that for the amount of time and effort that goes into planning, way too many plans fail to get executed successfully. Here is some interesting data.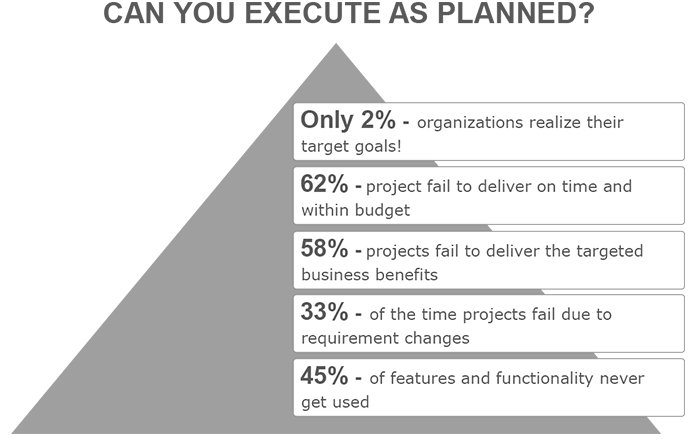 Now why is it so hard for leaders to get their teams to execute plans successfully? Management guru, Peter Drucker, nailed it when he stated "Culture eats strategy over breakfast". Organization or Team culture gets to overrule strategic plans and goals for various reasons, such as 1) hiring subject to budgetary constraints, resulting in recruiting less qualified candidates who accept low salaries; 2) hiring based upon who you know or like to work with so they fit within a team culture and less about hiring based upon merit and competencies, resulting in forming a culture that thrives on maintaining the status quo and emotional well-being of the group instead of the success of the organization; 3) people in positions of power feeling threatened by the changes brought about by executing new strategic initiatives; or 4) when members of the team are not motivated, knowledgeable or equipped to execute the new game plan.
GamePlanX (www.GamePlanX.com) was developed from the founders professional sports, military and emergency healthcare experiences, where teams were recruited, trained and enabled to meet the goals and expectations set by leadership - or money is lost, jobs get cut, or more importantly, lives are lost.
GamePlanX (GPX) helps your team execute your game plan by providing the following:
Experts, winning strategies and proven best practices to ensure you have a well thought out plan with realistic deadlines
Efficient project management and team collaboration solution, specially built for multi-location and culturally diverse teams to execute tasks accurately and efficiently
Powerful technology platform that integrates multimedia training, team collaboration and project management to facilitate high performance teamwork.
No other company will get you started with a working solution so quickly:
1.

What features and benefits are unique about GamePlanX?
You get all the components for a working solution - experts, well thought out plans from winning strategies and proven best practices, teamwork and technology to execute a plan
We are a versatile, nimble, low cost, international company that offers numerous benefits to grow revenues and reduce costs
Rapidly deploy a powerful technology solution so teams can start executing a plan
Revenue growth by getting access to 72 international markets
Savings from outsourcing to vetted international teams
Easily scale operations by transferring the proven GPX framework to work locally and globally
2.
What emotional need is being specifically met by GamePlanX?
Confidence that goals will be realized
Satisfaction of getting a high value solution
Achievement from rapidly deploying teams to start executing a plan
Optimism from growing revenues by getting access to 72 international markets and reducing costs by outsourcing to vetted international partners
3.

What aspects of GamePlanX are hard to get from competitors?
No other company can give you so much value - Get much more than high-end consulting. Get a panel of world-renowned experts to recommend winning strategies and a well thought out plan that is then infused with our powerful technology solution that can be deployed globally within an affordable budget.
Here are some examples of how GPX delivered value to customers:
Medical Education, Hospital/Clinical Operations, Conference Management: Enabled a client to recruit medical experts to prepare and deliver live and online training to 1000s of physicians in over 72 countries. GPX offered its technology platform to support all aspects of conference planning in multiple cities, ranging from program/event planning, speaker scheduling, and travel coordination to content preparation, attendee pre/post conference outreach, networking and learning.
Health IT App Development: Enabled an entrepreneur to realize her vision of introducing a nutrition iPhone app that helps users track detailed nutritional value of food items, lose weight and live a healthy lifestyle. GPX managed a team of experts and an off-shore technology team to develop, launch and market a state-of-the-art iPhone app and website that integrates numerous complex technologies, including trending charts and social media.
Travel and Conference Management: Enabled a travel agency to reduce operational costs and improve team efficiency in multiple cities. GPX offered solutions for conference management, travel and destination CRM, and multi-city GPX virtual office for telecommuting.
Government Sales and Capture Management: Enabled a client to compete against multi-billion dollar companies and position itself to grow from $1MM to $30MM. GPX provided expertise in Business Development, Proposal Development and Capture Management. The GPX technology platform was configured to provide CRM, Supply Chain and Proposal/Capture Management, and GPX virtual office for telecommuting solutions.
Fast Food Store and Operations Management: Helped an entrepreneur to plan the setup for training and supply chain operations support at multiple fast food restaurant locations. Reduced time to productivity in an industry challenged with high turnover and low profit margins.